Every Year Comes as a New Challenge
In our prime years, who hasn't dreamt of exploring far and wide? I have been dreaming about it for a long time, and this dream has brought me on board for the Hong Kong Young Ambassador Scheme. My first impression was perhaps close to your guess – fun and truly eye-opening. Stationing at the visitor centre at the airport came first on my bucket list, and I am glad to say the Scheme offered me a window of opportunity to interact with travellers from around the globe. What's more, I never get bored because I could always contribute to society in an exciting way. Not to mention that I have taken up a new challenge to be a coordinator of the newly-recruited members, which sharpened my leadership skills and helped to connect me with the large Young Ambassador family. Will you partake in this fruitful and meaningful programme that sharpens your competitive edge?
Chan Sze Ying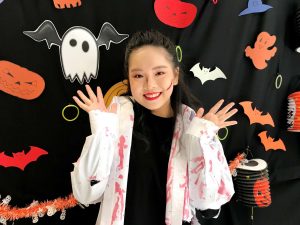 A Novel Experience
Due to COVID-19, the development of the tourism industry was hindered. As a Hong Kong Young Ambassador, it was a great pleasure to do something for Hong Kong's tourism industry. I didn't participate in major events or on-site stationing services. Instead, I brought warmth to tourists by shooting in front of the camera. All of us had to celebrate the Mid-Autumn and the Halloween Festival at home last year. In light of this, we as Ambassadors prepared a series of online celebration activities. The shooting experience of the Halloween Festival still dwells in my memory. What impresses me the most is the chance to dance with several professionals in the Halloween Festival. Also, I acted as a Canadian and introduced local customs to other Ambassadors and tourists. Although we had to put on masks and see each other through a screen, we could still show you our passion and enthusiasm!
Zeng Tsz Siu 
Be with Us
After the pandemic, the first thing I want to do is to promote Hong Kong tourism in the local community with my fellow Young Ambassadors. Hong Kong is known to be a cultural kaleidoscope uniquely combining Chinese and Western cultures. By offering vivid introductions and interactive games, we hope to perfect tourists' experiences and encourage them to explore the warmth and beauty of Hong Kong. Under the pandemic situation, the Hong Kong tourism industry is now facing unprecedented challenges. I invite you to join us to spread hope and positivity and contribute to the local tourism industry.
Chan Cheuk Him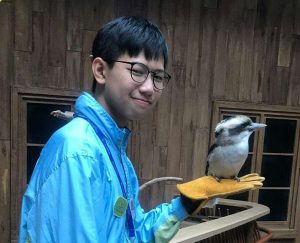 Let's Energise Hong Kong Together
Born and raised in Hong Kong, I was always looking for a way to repay my hometown with my effort. I am very grateful to the Hong Kong Young Ambassador Scheme for offering me an opportunity to express this gratitude to Hong Kong. I was assigned to provide services in the Ocean Park, where I could share my knowledge of the animals learned to tourists and demonstrate to them the effort of animal conservation in Hong Kong. In this half year of service, I found it so enjoyable to witness visitors' enjoyment and appreciation, and assure my value through the collaboration with team members.  I thank the Scheme for changing my introversive character and strengthening my sense of belonging to Hong Kong.
Chan Chin Pok
Little Things Make Big Things Happen
I was a greeter to the contestants at the "UCI Track Cycling World Cup". One of my duties was to ensure the main door was closed during the competition. The task seemed to be trivial in the beginning but later I discovered that the closing door would reduce the influence of airflow on contestants' performance, and my duty was meaningful indeed.  It was such a memorable occasion for me to witness Sarah Lee, one of Hong Kong's best cyclist, winning the championship. It was such an honour to participate in the Hong Kong Young Ambassador Scheme. Not only did it allow me to step out of my comfort zone and lead me to become more outgoing, but it also enhanced my sense of commitment and mission towards the community.
Chong Sin Yiu
Connecting People with a Smile!
Being a member of the Hong Kong Young Ambassador Scheme for the past two years, I was fortunate enough to participate in different tourism promotional events and stationing services. These unique experiences not only broadened my horizons, but also allowed me to get to know more about Hong Kong – a city in which I live and treasure. I have participated in various festive events, including being a sign holder at the International Chinese New Year Night Parade which brought wonderful festive experience to tourists through music and dance. What inspired me the most was that I have learned how to communicate better, just with a simple smile or a warm "hello" – the perfect ice breaker! Don't hesitate and start smiling today!
Chung Wing Yiu